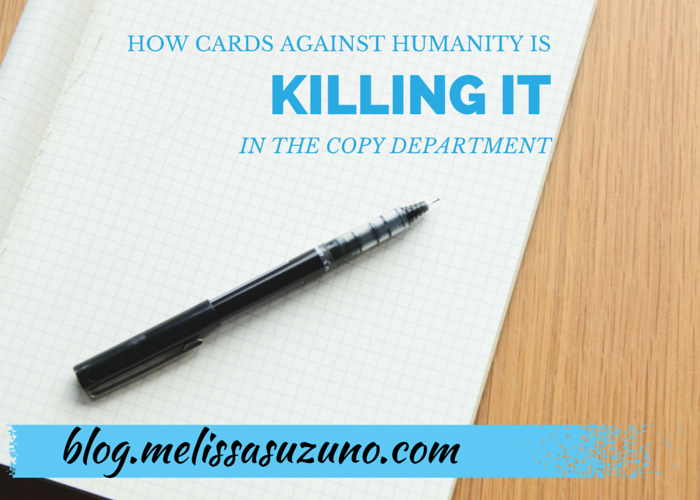 Let's get something out of the way: when something bills itself as "a party game for horrible people," you know it's going to appeal to the wicked part of you. There will also be some NSFW language contained within this post, FYI.
If you're not familiar with Cards Against Humanity, here's a quick summary: You have a pile of black cards that work as prompts (e.g. "War. What is it good for?" or "What did Vin Diesel eat for dinner?") and a pile of white cards that are responses to those prompts (e.g. "Passive-aggressive Post-it notes" or "Vigorous jazz hands").
One player draws a prompt card and reads it out loud, while the rest of the players choose response cards and submit them anonymously. The player who drew the prompt reads off all the responses and chooses a favorite. Hilarity ensues.
If you've ever played the game, you know that the prompts and responses on the cards themselves range from benign to awkward to downright despicable. But I recently purchased the game for myself and the entire experience was so enjoyable (and the copy so consistently irreverent and hilarious) that I wanted to take a moment to celebrate Cards Against Humanity as my latest copy crush.
When you first click on the "Buy now for $25" button, you get taken to the store, where a little pop-up window at the top says "Our drones tell us that you live in the United States. Are we wrong?" Suddenly geographic targeting seems slightly more entertaining than ever before!
The bullet points for each of the items on offer combine factual, useful information with random humorous tidbits, like "0% of proceeds go to the Make-A-Wish Foundation" (a great way to ensure people keep scrolling to find out what silly thing they'll find next).
But for a company that seems to appeal to the deepest, darkest parts of us, Cards Against Humanity also appears to have a conscience (or at least believe the people buying it will), because the proceeds from holiday expansion packs really do go to a good cause (The Wikimedia Foundation and DonorsChoose.org). A few days after I made my purchase, I received a nice email from a teacher at a nearby elementary school (see, those drones who identified my exact geographic location are good for something!).
When I finished my purchase, a button appeared at the bottom of the screen that read "Go outside." Of course I had to click on it to see what happened. It brought up Google Maps and showed me all the parks in the area. (Again with those drones!)
The fun and games don't end as soon as you pay, either. My confirmation email began: "Dearest customer, Thank you for spending your money all over our website." It hits all the high notes—poking fun at the bland, automated emails we're inundated with; describing the nature of our transaction with deadpan delivery; conveying sincerity AND somehow mocking it at the same time.
But my favorite line of all: "You can reply to this email if you have any questions." Say what??? I can actually respond to this email and a human will answer it.  Somehow this just seems pretty darn humane, doesn't it?
And keeping in line with that same irreverent yet genuine voice, the letter that came in my package read: "Dear consumer, Thank you for buying Cards Against Humanity bullshit from our store. We've worked hard to keep Cards Against Humanity independent so that no publishers, distributors, or viceroys of the British empire can tell us what we can or can't do with our game. We really like having a one-on-one relationship with our customers, and we hope we didn't fuck it up. If we did fuck it up, please let us know." And a bit further down the page: "The Cards Against Humanity store is new, and we're still working out the bugs. Some customers report having received a burlap sack of broken Soviet appliances instead of their order. If this happens to you, please let us know."
What a perfect way to complete the transaction and make me feel good about my purchase. Not only do I feel relieved that my money is in no way supporting viceroys of the British empire, but I know that if there had been a problem with my order, someone would be around to help me sort it out (and they would probably have a pretty good sense of humor about it as well).
So to my latest copy crush, Cards Against Humanity, I say: Well played, my friends. Well played.