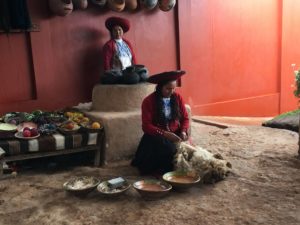 It was rainy and cold. My body was exhausted after waking up at 5am the day before to fight the crowds to Machu Picchu. I'd been riding on a bus for hours. And the medication I was taking to help my body acclimate to the altitude left me feeling spaced out, light-headed, and—oddly—a little tingly in my fingers and toes. It all sounds like the perfect recipe for a foul mood.
And yet I couldn't stop smiling and laughing.
Why was that?
Because our experience at Chinchero was exactly what I needed in that moment. And as I reflect on it, I realize that it was a perfect lesson in understanding your audience.
When we arrived at the community textile center, we barely had time to take in the guinea pig castle (yep, really) or the alpacas who were happily munching on grass. We were quickly ushered beneath a tent and welcomed with warm mint tea.
Our hostess, Julie—who's 19 and has been welcoming tourists to her community for 12 years—gave an efficient but incredibly informative demonstration of how they clean, spin, dye, and weave their wares—colorful blankets, scarves, and table runners. She showed us how they grate a local root vegetable to turn into soap to treat the wool. This natural, organic cosmetic is also what the women in her community use to wash their hair, and in addition to being the perfect substance to clean wool, it's also somehow a miracle cosmetic that prevents hair from turning gray. Sure enough, all of the women we saw in the community had ink-black tresses. No gray or silver strands in sight.
While she demonstrated how they spin the wool to prepare it for weaving, with perfect comedic timing, Julie quipped, "Only women are allowed to do this task. Men can't do it. It's too difficult."
At one point, she held up a bone that's used in the weaving process. "Can anyone guess who this bone belonged to?" she asked. A few people from our group hazarded some guesses. Alpaca? Llama? Horse? "No," she smiled. "A tourist who didn't buy anything."
Which, of course, was the perfect segue to guide us to the marketplace, where we had countless items to choose from. And many of us were happy to spend money there, stocking up on these incredibly beautiful textiles.
Here's why I think this experience was a lesson in marketing:
Our hostesses understood our weary condition and made sure to take care of our immediate needs—the warm tea helped us contend with the rain and cold
The presentation was kept brief—it only lasted about 10 minutes—which ensured that our attention didn't wander… and we had plenty of time to shop!
Julie understood exactly the type of humor that would appeal to us and put us at ease with her jokes
By highlighting elements of their lifestyle, she gave us a glimpse into the fact that we weren't just buying something, but we were actually supporting a community and a traditional way of life
By making us feel welcome, entertaining us, and sharing insights into their community, they turned us from strangers into mega-fans and customers—all within the space of a few minutes.
How can you do the same for the customers or prospects in your life?
If you'd like to learn more about the textile community in Chincero, check out this video from National Geographic.
Have you ever had a similar experience? I'd love to hear about a time when you were immediately blown away by incredible customer service or marketing, whether while traveling or at home!