When I first heard of the J-Pop Summit, I wasn't sure if it would be my thing. I've never really gotten into the J-Pop genre of music (for whatever reason I find K-Pop to be much more enjoyable—maybe because it's so similar to American pop).
But it turns out that the J-Pop Summit was about much more than just music. This weekend-long event (which took place August 8 and 9 in San Francisco) celebrated several aspects of Japanese pop culture, including food, fashion, and anime.
The events took place at two main locations: Fort Mason and Union Square. Fort Mason featured a half a dozen food trucks and a large hall with musicians, dance performances, and booths promoting various aspects of Japanese culture.
The main draw at Union Square was a sake tasting area. (Fun fact: In Japanese, "sake" is a general term that means "alcohol." The specific type of alcohol that we call "sake" in English is actually called "nihonshu" in Japanese.) There were also a handful of vendors selling food and a few vendors whose food and drinks featured matcha (green tea powder).
Here are a few of the highlights from my visit to the Fort Mason event. Many thanks to the talented Eva Vargas for the photos!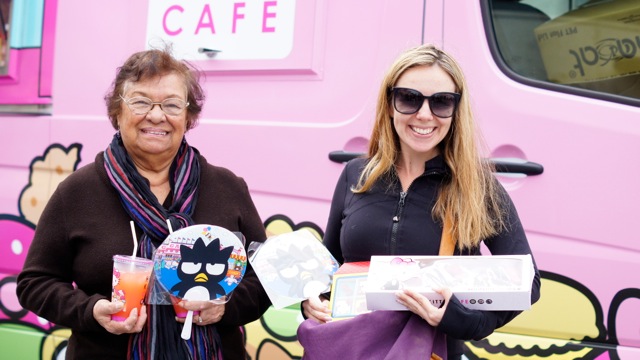 When we arrived at Fort Mason on Saturday afternoon, I was thrilled to see the Hello Kitty Café. This adorable pink food truck sells donuts, cakes, macarons, and other confections that are adorned with Hello Kitty-inspired decorations.
I had tried to visit the Hello Kitty Café when they were stationed at a festival in Japantown a few months ago, but after seeing how many people were waiting in line, I decided to skip it. Luckily the line was short at the J-Pop Summit, so we got our treats right away!
A close-up of the Hello Kitty donuts. So kawaii!! 
One of the parts I was really looking forward to was the recreated ryokan (a traditional Japanese inn) where we could watch videos about different regions in Japan. It turned out to be a not-so-subtle commercial for each of the ryokan, so it was a little disappointing in that respect.
But they did have yukata (light cotton kimono) that we got to put on—they even had several staff members on hand to make sure we were wearing them properly. Wearing a yukata and going to a matsuri (festival) is a typical summertime activity in Japan, so it was fun to get to experience that here in San Francisco!
We also had the opportunity to meet two Japanese pop stars, Yana and Kiku, whose celebrity was unfortunately a little lost on us. They were really cute, though!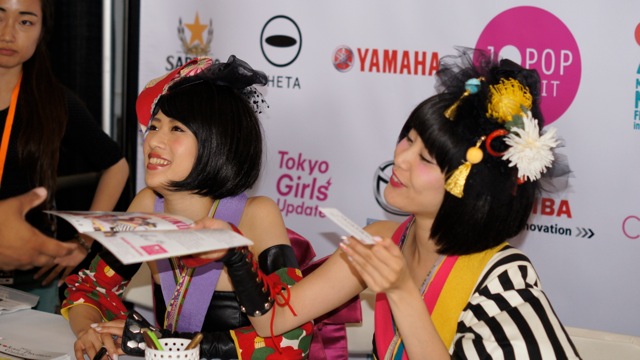 Wandering around the large hall in Fort Mason was a bit disorienting. There were all sorts of unusual sights and sounds, like this giant head, a woman in a bathtub with a lot of cash, and various people doing cosplay.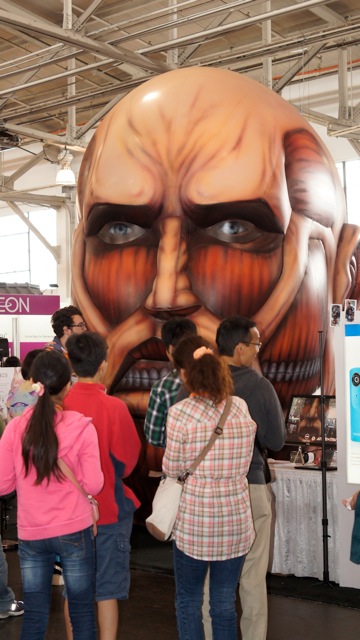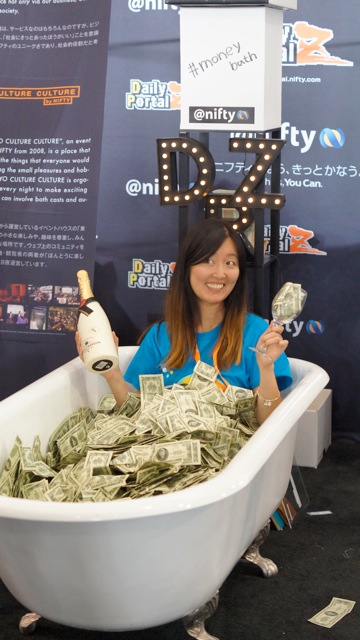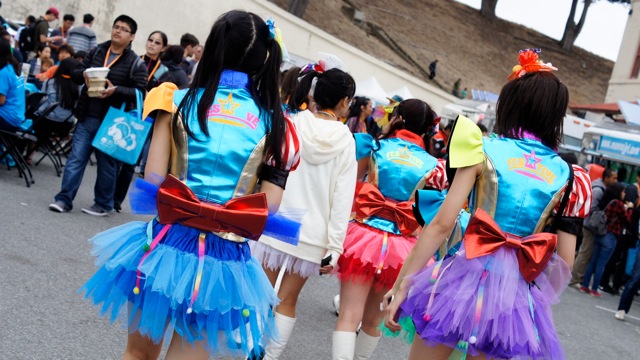 It was a colorful, fun way to spend the day, and I look forward to attending again next year!