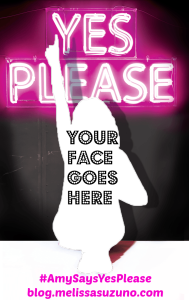 I'm not a die-hard Parks & Rec fan (though that may be changing now). I didn't really know anything about her performances on SNL or with Upright Citizens Brigade. I've never seen Baby Mama or watched the Golden Globes award ceremony. But despite my general lack of exposure to Amy Poehler, I'm so glad that I read her book, Yes Please (2014, HarperCollins).
Some sections didn't make a ton of sense to me because I have only seen a handful of episodes of Parks & Rec, but overall she has some important, funny, and well-written things to say about motherhood, marriage and divorce, Hollywood, relationships, and life in general.
I love how Yes Please alternates between hilarious and heartfelt—maybe that's due to Poehler's own belief that going from laughing to crying to laughing helps extend your life. There were so many parts where I found myself smiling, nodding along in agreement, or swelling with admiration for Poehler and her relationship with both her work and her colleagues.
One of my favorite chapters, entitled "Plain Girl vs. The Demon," covers the thorny issue of self-confidence, especially how it relates to appearance. She starts by introducing this concept of the voice you hear that tells you negative things about yourself: "This voice that talks badly to you is a demon voice. This very patient and determined demon shows up in your bedroom one day and refuses to leave."
She explains how this demon voice has crept into and out of her life at various stages, and how one of her best methods for dealing with it is through improv and acting, and another technique she recommends is standing up for yourself and talking back to the demon: "Other times, I take a more direct approach. When the demon starts to slither my way and say bad shit about me I turn around and say, 'Hey. Cool it. Amy is my friend. Don't talk about her like that.' Sticking up for ourselves is a hard but satisfying thing to do. Sometimes it works. Even demons gotta sleep."
I love this chapter because it feels so authentic to me. Us regular people spend a lot of time scrutinizing ourselves for our various "flaws," but it made me realize how that pressure is so much greater on the women who are in the public eye.  It's so helpful to reframe that self-criticism as an evil force to be ignored and try to build up the part of you that is a friend.
Another chapter that really stood out to me was "Time Travel," where Poehler shares her thoughts on this concept (which is not so much about time travel as it is about being present in every moment): "You can control time. You can stop it or stretch it or loop it around. You can travel back and forth by living in the moment and paying attention. Time can be your bitch if you just let go of the 'next' and the before.'
And I especially appreciated this part because it certainly resonates with some of my own experience: "People help you time-travel. People work around you and next to you and the universe waits for the perfect time to whisper in your ear, 'Look this way.' There is someone in your life right now who may end up being your enemy, your wife, or your boss. Lift up your head and you may notice."
You might think that a book by a famous comedienne would be full of jokes and witty one-liners, and Yes Please certainly is, but these brief poignant moments throughout the book are like little buried treasures.
And I barely held it together on the train when I read through the list of rejected names for Leslie Knope's character on Parks & Rec. So if you're looking for comedy, don't worry—you won't have to search too hard.
To Amy Poehler and Yes Please, I say Thank You Very Much.