What's the vegan and vegetarian scene like in Kyoto? Based on my most recent visit, I'd say it's poppin'! Of course I don't want to get too far without saying that things in Kyoto are always changing. Some of my longtime favorites are gone, new places are always appearing on the scene, and opening hours can be a little perplexing (a lot of Kyoto restaurants and cafés have one regular day off, which tends to be on a weekday like Tuesday or Wednesday, or they're only open for lunch, or they're only open for lunch 2 days a week and then dinner 3 days a week, or… well, you get the picture!) so be sure to check websites, Google Maps, and call if possible before planning a trip to any of the places I mention here. This information is all based on my visit in late May, 2018.
First stop: the conbini
Luckily there are a few veg staples you can pick up at pretty much any convenience store (that's conbini in Japanese), so if you do find out that the place you were planning to eat is inexplicably closed, you shouldn't be too far away from a quick snack.
My favorite items are inarizushi—sweetly seasoned pockets of thin tofu stuffed with rice and sesame seeds, and sekihan, literally "red rice," a small disc of rice and adzuki beans (which lend the rice its red color), topped with black sesame seeds and salt. Very simple but so good and filling! Here I am enjoying a sekihan on the train from Kansai Airport to Kyoto.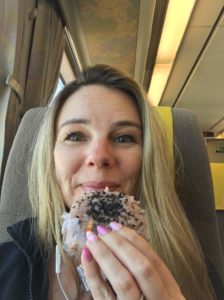 efish
I mentioned efish in one of my earlier posts about the best things to do in Kyoto. This café is simply the cutest and it has a number of things going for it: it has AMAZING views of Kamogawa (the Kamo river), they don't charge you extra for a window seat like they do at some other places (cough, cough Kawa Café), they have some tasty vegetarian options, and they also sell super cute stationery and other gifts. I got the vegetarian taco rice (pictured below). If you've never had taco rice before, its basically fusion food at its finest—Tex-Mex brought to Japan via American GIs in Okinawa. It varies a little depending on where you go, but the essential elements tend to be rice, a simple salad of lettuce and tomatoes, taco chips, cheese, salsa, and some sort of chili. The typical (non-vegetarian) version uses ground beef, but veggie versions vary—some, like the efish version, are prepared with mushrooms and beans while others use soy meat or tofu.
At efish, I also love the caramel milk tea topped with whipped cream and a drizzle of caramel. They also have a broccoli, cottage cheese, and walnut salad that sounds pretty good, though I haven't tried it.
efish is located on Kiyamachi-dori, a small street between the Kamo river and Kawaramachi-dori. It's just past the intersection of Kiyamachi and Gojo. With the river is on your left, cross Gojo and go down Kiyamachi a few buildings. efish will be on your left.
Goya
Since I just described taco rice, I figured it made sense to introduce you to Goya, the Okinawan restaurant located in a machiya (traditional Kyoto house) on Imadegawa-dori about a 10 to 15-minute walk from Ginkakuji Temple. One thing I love about the menu at Goya is that they clearly label which dishes are vegan and vegetarian. Their version of taco rice was served over multigrain rice and made with atsuage (deep-fried tofu), giving it a nice, chewy texture. It also contained a varied mix of greens including mizuna and what looked like baby chard. The portion size was huge and I ended up bringing half of it home to eat later. (This is not a very common practice in Japan, but I noticed that they offer takeaway lunch boxes so I figured they'd be able to wrap my leftovers for me, and they kindly obliged.)
I ordered the vegetarian version, so it came with cheddar cheese, but they also have a vegan option available.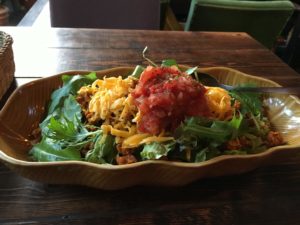 Goya feels like a very typical Kyoto café, especially for this neighborhood of Northern Higashiyama, which is near Kyoto University. It's a melting pot of cultures, has a super chill vibe, and the prices are reasonable. Plus, the staff are really welcoming and it feels like the kind of place you could hang out in for hours and no one would care.
Added bonus! While I was enjoying my meal overlooking the rooftops and forest behind them, I noticed a little friend hanging out nearby. (It's a cat, just in case you couldn't tell!)
Gorey
Just up the street a few blocks from Goya (closer to the intersection of Shirakawa-dori and Imadegawa-dori) is the tiny little vegan bar/café/venue Gorey. I happened to stumble across this place since it was right around the corner from where I was staying. It doesn't have quite the same charm as Goya (it's a newer building and doesn't have the open, airy vibe), but they showcase artwork by local artists and host live music.
I ordered the soy milk avocado pasta, which came as a set with a little salad and a pineapple juice. I was very curious about this combination. I have to admit that having avocado served hot kind of weirds me out a little bit, but it ended up being a hearty and satisfying meal. You have the option to order a smaller portion or larger portion of pasta, but thinking I'd go the Goldilocks route, I just stuck with the standard portion. It ended up being way too much for me, so I asked if I could take my leftovers home. Unlike at Goya, the proprietor here (who was running the whole show—greeting, seating, and cooking) wasn't really prepared for that. I wasn't surprised—as I mentioned earlier, leftovers are not really a common thing in Japan. But after considering it for a moment, he told me he had a Ziplock bag, which was fine with me since I was only a short walk home. So I took my pasta home in a bag and had the leftovers the next day!
Mumokuteki
Located in downtown Kyoto on one of the small side streets near Nishiki Market, Mumokuteki is a popular café and department store. The menu isn't entirely vegan, but it clearly marks which dishes contain fish broth and which are suitable for vegans. I opted for the tofu hamburg "locomoco," which is a Japanese interpretation of a Hawaiian dish. This version included brown rice, a mixed salad, a tangy tartare-like sauce, and two little discs of fried tofu goodness. It also came with a small vegetable soup. Other appealing menu items include the soy milk ramen and spaghetti "bolognese" made with root vegetables instead of meat.
I lucked out on this visit and got seated right away, but on a previous visit we showed up at lunchtime on a weekend and had to wait for about an hour for a table, so keep that in mind when planning your visit. It's also worth wandering around the department store a bit. It's a little difficult to categorize the items on sale there—it's a mix of clothing, antiques, and homewares, and the emphasis seems to be on simplicity and quality. I don't think the use of the word "hipster" would be inappropriate here.
Ain Soph Journey
The past few times I've visited Kyoto, Matsuontoko has been a favorite spot to stop in for a veggie burger. Its central location near Nishiki Market and the Teramachi covered shopping street made it the perfect place to grab a meal downtown. So on this visit, I was sad to see that Matsuontoko is no more. However, the good news is that it's been replaced by Ain Soph Journey, a Kyoto outpost of Tokyo-based Ain Soph.
The menu at Ain Soph Journey seems to focus on light, healthy Japanese interpretations of Western dishes like Spanish omelettes, wraps, and pancakes. I got a vegetable soup and tortillas with three dips (salsa, hummus, and a cream cheese-like herb spread). I liked the plentiful raw vegetables that came with the tortillas and was hoping I'd have room for dessert, but alas I was too full. Definitely a great option to check out if you find yourself hungry in downtown Kyoto!
Sunny Place
Located just off Imadegawa near Kyoto University, Sunny Place is a small spot that's only open for lunch. The owner/chef Yumi lived in the US extensively so she's happy to converse in English. I was the only customer for the majority of my time there, so I really enjoyed getting to learn a little bit about her life and her training as a macrobiotic chef. She also had some excellent recommendations for other vegan options in Kyoto (see Padma below).
Side note: Sunny Place was one of the vegan restaurants that existed back in the dark ages when I lived in Kyoto (2002–2004), but in a different location. When I asked Yumi about it, she told me that it was her mom who used to run the restaurant back then. She has since passed away, but Yumi continued the family business and moved it to its current location.
My meal at Sunny Place was one of my favorites in Kyoto. The options here are what I think of as very typical vegan lunch sets in Japan—there's some sort of main dish, rice, soup, salad, and a side dish. The day of my visit, the main dish was fried soy meat served karaage style, the salad was topped with sprouts and a creamy dressing, and the side dish was similar to nikujaga, a sweet simmered dish with potato, carrots, and soy meat. Everything was full of flavor and texture, and it was filling but not overwhelmingly so. One thing to keep in mind is that, like a lot of Kyoto establishments, Sunny Place is owned and operated by a single person. This means that hours may be slightly irregular, so it's always a good idea to call before heading over to confirm that they'll be open. The good news is that Padma is just down the street, so you have another excellent option nearby.
Padma
Padma is a little gem of a restaurant is located down a side street off of Imadegawa (If you're heading up towards Ginkakuji, it'll be to your right. If you've found Sunny Place, you just cross Imadegawa and keep going straight for about 5–7 minutes and you'll find it on your left.) The menu here is a bit more extensive—there were a range of different à la carte and set menu options. I was having a really hard time making up my mind, but eventually decided on a set meal of wheat gluten served katsu style (breaded with panko and deep-fried), which was served with an assortment of beautiful side dishes, including an avocado salad, creamy turnip potage-style soup, English peas, and a grilled tomato.
Everything was so colorful and fresh, making this meal one of the most aesthetically pleasing ones I had on this trip. (And that's saying a lot for a country where pretty much every meal is aesthetically pleasing!) If you only have a short time in Kyoto, I'd definitely recommend prioritizing eating here.
Stardust
Getting to Stardust is quite the production. Not only is its location pretty out of the way (basically on a side street in a residential area of Northern Kyoto), but they only make a limited number of dishes every day, so you have to contact them at least a day in advance to make a reservation for your visit. But since I was in Kyoto for a stretch of time, I figured it was worth going on a little adventure and trying it out. I emailed them and they let me know my requested day and time was available. Because it was quite a trek from where I was staying, I opted to take a taxi there. If you end up doing so, I'd highly recommend bringing Stardust's phone number with you because it's really off the beaten path. My taxi driver ended up calling them a few times because he wasn't completely sure about the location.
Stardust is located in a machiya (a traditional Kyoto house) that's been modernized. I'd say it's a blend of Kyoto and hipster sensibilities. The front of the building is a little boutique selling a curated selection of jewelry, clothing, homewares, and tea, and the café is located in back. There's a little terrace with one table, and the inside of the café has a handful of tables with minimal décor.
On the day of my visit, lunch included soup, a roasted vegetable and couscous salad, and a cup of tea. The meal was light, healthy, and fresh, but not one of my favorites. It was just a little underwhelming, especially considering what an endeavor it was to get there.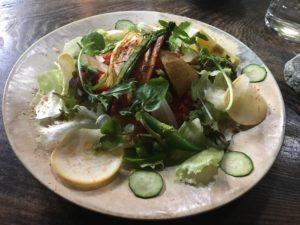 So there's my take on vegetarian and vegan dining in Kyoto! Have you been recently and visited someplace that you'd recommend? Drop me a line in the comments to let me know!