In late June/early July 2016, I joined the Sol-Axé dance retreat on the trip of a lifetime: We chartered a plane from Miami to Havana and spent a week dancing through Cuba.
In a nutshell, our trip lasted a week, with four days in the beach town of Varadero and three days in Havana. We took dance classes, saw timba, rumba, and cabaret dance performances, visited an amazing arts center called La Fábrica de Arte Cubano (also known as La FAC), and otherwise had the chance to observe this amazing country at a unique moment in time.
In March 2016, President Obama announced that the US would be lifting some of the strict travel and financial restrictions it had been imposing on Cuba. Just a few months later, when we made the trip in June, we could see that Cuba was on the precipice of change, but not quite there yet.
A tale of two airports
The act of flying to Cuba is a great example. No US airlines were offering direct flights, so we went through a charter company to secure the flight from Miami to Havana. The ratio of complication and waiting to actual time flying was pretty astounding. For a 43-minute flight, we were instructed to arrive at the airport a staggering 4 hours early. When I approached the ticket counter at American Airlines (as my charter voucher instructed me to do), the disgruntled woman behind the counter snorted, "ABC? Never heard of 'em! What are you, going to Cuba or something?" "Yes," I replied, "That's what I'm doing." She gestured to the far end of the airport, "Try over there."
When I found the counter, there was a single man working there, but he instructed me to come back at 8. (This was around 7:40 or so.) I went and grabbed a seat. As I waited and watched, people began to trickle in, and somehow two lines began to form. One line seemed to have people with their luggage and the other did not, but it was all a little unclear.
I should also point out that there was a little kiosk set up off to the side—not an official part of the airline's area, but nearby—that was offering to shrink wrap your luggage for $15. It caught my eye and seemed unusual, but I forgot about it until later on in the day, when it became significant.
It turned out that you had to wait in both lines, but it was important to do them in a specific order. In the first line, you handed over your passport and received a piece of paper (that was not your actual boarding pass). In the second line, you checked in your luggage and got your actual boarding pass.
Then you went through security and proceeded to your gate in the terminal as usual. The monitor clearly displayed "Havana, Cuba" would be greeting us with a sunny, 84 degree day.
Boarding began on time and went fairly smoothly, but it had begun to rain heavily in Miami, so we ended up having to wait out the storm before we were allowed to take off, which meant about an extra hour on the plane before we even took off.
The flight, operated by American Airlines (despite the disgruntled agent's lack of knowledge at Miami airport), was quick and uneventful, but the second our wheels touched the ground in Havana many of the passengers burst into applause.
Going through immigration was pretty quick—the agent reviewed my passport and visa, took my photo, and handed everything back.
I stepped through the door and into the baggage claim area.
I was in Cuba!
Except… there was the small issue of luggage. First, there was a security screening for everything we'd brought as carry-on. We had to put it through a scanner, and then proceed to the conveyor belts to pick up our checked bags.
The baggage claim area was full of people milling around, and the few chairs along the wall were occupied by seemingly off-duty immigration officials and other airport personnel. They lounged and chatted with each other, and the passengers from our flight filtered into the room after clearing immigration.
After about half an hour, it became clear that the bags would not be coming out any time soon. There was a muffled announcement that said something about the rain delaying the bag retrieval process.
Someone from our group later explained that it was actually because they go through every bag individually to ensure you're not bringing any contraband into the country. This actually made a lot of sense because all the zippers on my bag were slightly open when it finally arrived, and the shrink-wrapped bags were the first ones to come out on the conveyor belt. Now I understood the significance of the kiosk at Miami airport!
All told, it took a little over two hours for our bags to arrive. Our flight, which was scheduled to leave Miami at noon but didn't leave until after 1, arrived in Havana around 2, and we were getting our bags around 4:30.
And we then had about a 3-hour bus journey to Varadero, so our day of travel was not yet complete!
But I don't want to sound like I'm complaining—although waiting 2+ hours in an airport (and actually 6+ if you include the time in Miami airport that morning) is not my ideal way to spend a day, it seemed like it was an integral part of the experience, especially at this point in time.
Perhaps in the next few months, it will become more commonplace for there to be direct flights between the US and Cuba, and something will change on the administrative side in Cuba as well. It may end up like any other destination in the world, but for now that is certainly not the case.
Welcome to Cuba! Have a piña colada!
Once our whole group was assembled, we hit the road. Our chariot was not a classic American car but a Chinese-made Yutong bus. However, it was air-conditioned and had seats for everyone, which was great because the drive from Havana to Varadero was about three hours.
Traffic doesn't seem to be a huge problem—cars are so expensive that few people can afford them, so the roads are relatively clear. There were a lot of people waiting at bus stops and walking along the highway, and throughout the countryside you'll see large painted murals featuring Che Guevara and different slogans and messages.
About halfway through the journey, we stopped in a lookout point in Matanzas to observe the tallest bridge in Cuba (shown above) and partake of piña coladas (pictured below). The bartenders blended up the beverages and poured them into the pineapple shells and supplied the rum, but you had to pour it yourself.  This reminded me a little of the "all you can drink" establishments in Japan. It seems like you'd have people who take advantage of the system and drink way more than they're paying for, but somehow it seems to work.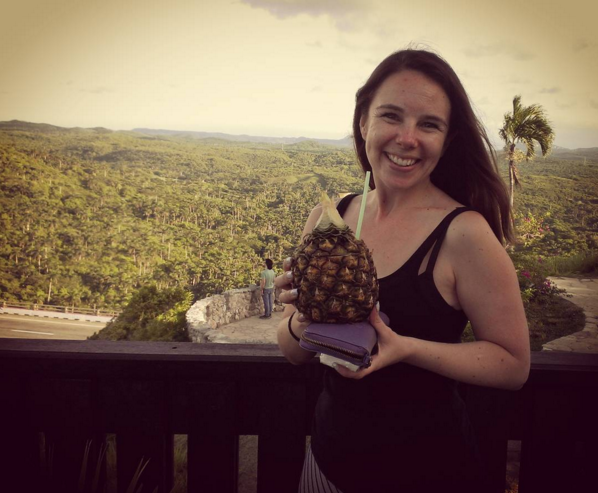 As we enjoyed the fresh air and the lush scenery, a few stray but clearly socialized cats wandered up to see if they could score any snacks.
Geography lesson
The best way I can come up with describing the aesthetic of our accommodation, the Barcelo Solymar in Varadero, is '80s Soviet-inspired beach resort. These two photos from TripAdvisor help to illustrate what I'm talking about.
But one of my favorite aspects of the Solymar was the reception desk. This display is such a good reminder that we're definitely not in Kansas anymore, and the principal cities of the world can really vary depending on where you are. And when you're in Cuba, they're not what you think they are.
¡La playa!
The beach in Varadero was quite simply one of the most pleasant I've ever seen. White, powdery sand, clear, calm waters, and not overly crowded.
The water was also so warm that it was possible to go in the evening and watch the sun set from the water. Photo proof below.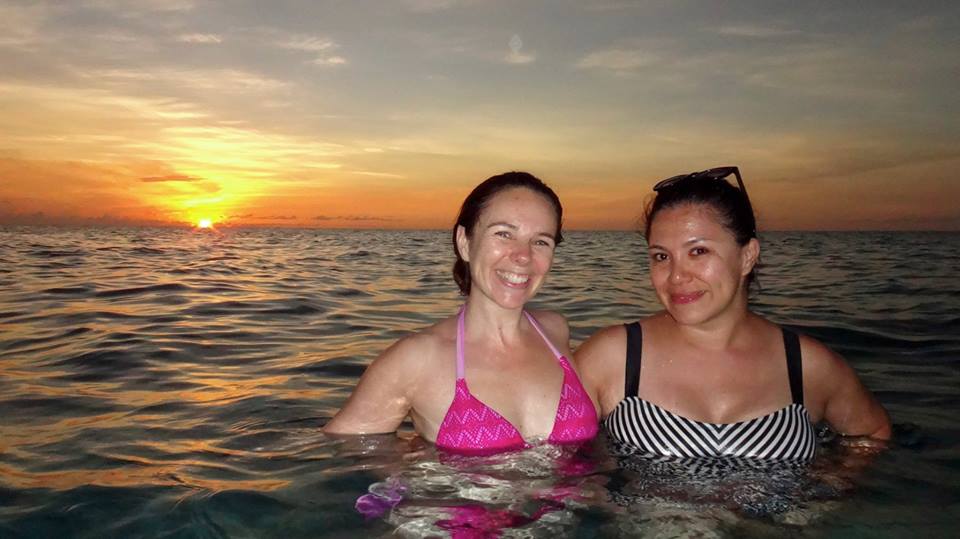 Stay tuned for Part 2, where I'll talk about some of the dance lessons and performances and share some scenes from Havana!