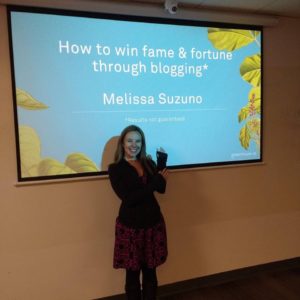 Back when I was the Content Marketing Manager at Greenhouse, I gave a presentation and workshop entitled "How to Win Fame & Fortune Through Blogging" (*Results not guaranteed) in order to encourage people to consider contributing to the Greenhouse Blog (or any blog, really). I think many of these lessons are still worth sharing, so I've adapted them to apply to anyone. If you have a company blog and you're trying to encourage people to write for it, feel free to pass this along to your coworkers!
Why should you contribute to a company blog?
There are a number of reasons why it's a good idea to contribute to a company blog, even if you're not a marketer or don't think you're a good writer. (Also, don't worry too much about your writing skills—your editor can help with that!)
It's a chance to tell your story and build authority in your field
It creates a lasting artifact of the work you did at a particular company
It's an awesome résumé-builder/something fun to add to your LinkedIn profile
It helps you establish your company as a game-changing thought leader
You'll win the love and support of your friendly editor
And, of course, you'll boost your chances of winning fame and fortune (though results are sadly still not guaranteed)
How do you write a blog post?
I know that many people who are otherwise perfectly functioning professionals tend to freak out at the idea of a writing assignment. Perhaps they were traumatized by an awful high school teacher or college professor. Maybe they've always thought that writing was basically the same as flying or speaking Wookie fluently—very cool in theory but just not possible in real life. Or maybe they have a rare condition that whenever they sit down to write something, they accidentally spend 20 minutes Googling random things like various celebrities' Bacon numbers instead of actually putting words on a page. Whatever the reason, people have hangups about writing.
In response to all that, I have some good news and some bad news.
The good news is that writing for the web is NOT the same as writing for Mrs. Crabapple's expository writing class. In fact, I made a few bullet points to quickly summarize the basics of writing for the web.
This ain't your typical college essay. Writing for the web is different from writing for school. Seriously. Look—I just used the word "ain't" and a one-word sentence!
You can be much more casual and conversational. In fact, most editors prefer that! A good rule of thumb in writing for the web is to simply ask yourself if what you're writing is something you'd say out loud. If it is, you're probably on the right track!
Think about your overall story, the big question you're answering, or a few main points you'd like to cover. This will help you organize your outline. It also explains the prevalence of posts like "7 Ways to Work Wookie into Your Everyday Conversations" and "5 Reasons Why Mrs. Crabapple Made Me Hate Writing" on the web—this style of post is easy to organize, and easy to scan, which brings us to the next point…
People tend to scan online, so think in terms of sub-headings, bullet points, and short sentences.
Okay, so I've left you in suspense long enough. We've covered the good news. So what's the bad news? Basically, it's just that writing for the web—while different from writing for school—is still writing. So it will involve actually sitting down and typing words into a document. Sorry—someone had to be the one to break the harsh reality to you.
What is the actual writing process like?
Now the following steps are generally what I would expect a contributor to go through when I was editing a company blog. They may be slightly different depending on the company and the editor in question, but the general framework goes something like this:
Let your editor know that you have an idea or you're interested in contributing to the blog. Most editors will do a dance of joy upon hearing this, so just mentally prepare yourself for that. Then your editor will probably want to discuss the idea with you and potentially give you some direction or guidelines to keep in mind.
You create an outline and share it with your editor. The outline is super helpful, especially if you still have some of that trauma related to writing that we discussed earlier. An outline will help you organize your thoughts and identify points that you may wish to research for supporting quotes or statistics.
Next, you take your outline and turn it into a draft. This is generally the part that sounds easiest in theory and is most excruciating in practice. It even happens to me sometimes, and I'm a professional writer! One great piece of advice here I picked up from Sam Parr at ConCon—don't worry about creating a perfect first draft and don't try to edit and write at the same time. Just sit down and try to write your full draft. You can always polish it later on, but getting into the flow of typing words on the page has to happen first.
Send your draft to your editor, who will review it. Sometimes, they may have substantial comments, questions, and edits for you. Sometimes, they may opt to make changes themselves rather than asking you to do it. And sometimes they will just delete your entire essay and replace it with pictures of Chewy the Alpaca. (Hopefully this doesn't happen to your work, but I'm just trying to prepare you for any eventuality. Also, Chewy is just really adorable.)
Your post is scheduled and published.
You celebrate! And help spread the word. This step is important (not just the celebrating, but the word spreading), because the more you share and circulate your blog post, the more people are likely to see it. This makes your editor happy and it also contributes to those benefits I mentioned earlier (being perceived as an authority, contributing to your portfolio, potential fame and fortune, etc.)
So there you have it! A quick overview of why you should consider writing for your company blog, a crash course in writing for the web, and some of the main steps you can expect to go through when writing a blog post.
Have any questions or want to discuss anything further? Feel free to drop me a line to let me know!
Featured photo by Annie Spratt on Unsplash